Consumer use of mobile data is growing exponentially, and is expected to increase by 10 times during the next five years. This is driven by the increasing number of connected devices, such as smartphones and tablets, where social networking, sharing of pictures, and uploading of video content generate an increasing strain on the mobile data networks. This rapid increase of data use and connected units is challenging the world's mobile data networks to their limit.
The telecom industry has set the goal to provide each user with a Gigabit (Gbit/s) connection. This is 10 times higher than what can be provided by today's 4G networks. Antennas are the key enabler for the mobile data networks and for our wireless society, but the currently used antenna technologies do not fulfill the requirements necessary for meeting the goal of Gigabit connections.
Technologies used for 2G, 3G, 4G will not be enough
In the development of the 2G, 3G, and 4G networks, the primary way to increase the data capacity was to use more advanced algorithms for compressing data. To cope with projected data volumes, the use of such techniques is not enough. To increase the data capacity further, the network providers will need to:
Increase the number of base stations
Increase the operating frequency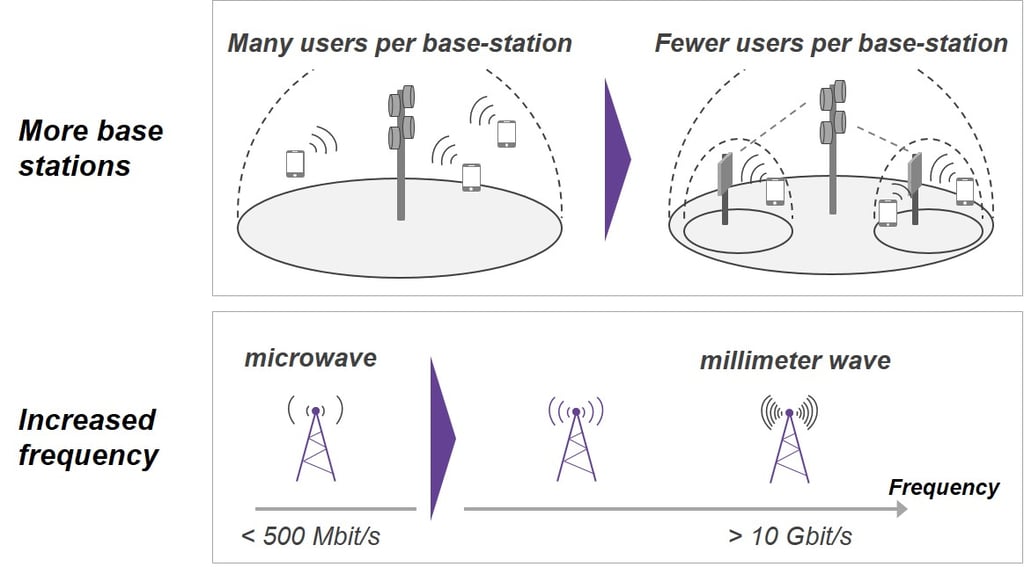 To meet the exponential increase in mobile data volume, there is a need to increase the number of base stations and the frequency
More base stations: Need to be installed close to end users and have a small visual footprint
More base stations reduce the number of users per station and thereby increase the capacity. However, the base stations need to be installed close to the users and will therefore be placed in urban environments, such as inside shopping malls, on walls, or on lamp posts. As a result, the antennas need to enable a small visual footprint of the base stations.

Increased frequency: Millimeter wavelengths are necessary to meet the data speed requirements
Today's wireless communication between base stations primarily uses frequencies between 6 and 23 GHz. 5G solutions are planned to operate at 30-300 GHz (millimeter waves). These frequencies open up for Gigabit transmission rates. However, at such high frequencies, much higher precision in the antenna production process is required than at lower frequencies. The reason is that signal losses occur due to even very small imperfections in the antenna structure, a problem that does not exist to the same degree at lower frequencies. This results in a costly process for developing and producing antennas for higher frequencies and calls for new antenna technologies to enable the transition from 4G to 5G.