An autonomous vehicle is one that is self-driving in the sense that it can steer, accelerate and brake by itself. The technologies required for autonomous driving have matured significantly in the past couple of years and are on their way to be implemented on a large scale. The technologies available are LIDAR (laser based solution), radar, cameras and ultrasonic sensors. However, no single technology is today sufficient to meet all the requirements for autonomous driving. For example, Google's autonomous vehicles primarily use LIDAR, while Tesla is using a radar system in combination with cameras and sensors.
LIDAR is considered to be the most accurate technology, but is currently too costly to be implemented at a large scale. One LIDAR system can cost up to 80 000 US dollars. Radars on the other hand, offer longer range detection, are cheaper and allow the vehicle to navigate in rain, snow and fog. The main drawback of today's radars is their limited resolution, resulting in for example false detection of objects. They are therefore less accurate than LIDAR (under good weather conditions). Cameras complement radars and LIDAR systems by providing visual information of the surroundings, detecting for example red lights and speed signs. However, today's cameras are limited to very low resolutions due to data processing requirements restricting their viewing range. Sensors based on ultrasound are low cost and reliable, but can only be used for close range detection, for example in parking assistance.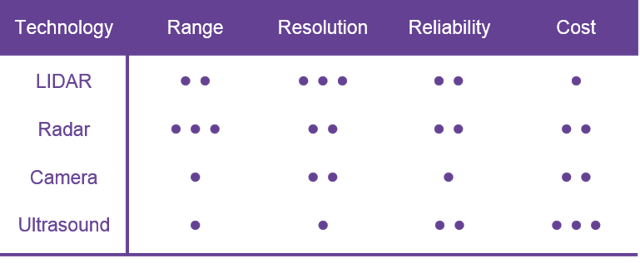 Comparison of the main technologies used for autonomous driving
Today's radars do not offer the necessary resolution to distinguish objects with sufficient reliability. One of the main challenges is the separation of small and large objects that travel at the same distance and velocity in adjacent lanes, e.g. a motorcycle driving in the lane next to a truck. Automotive radars are therefore mostly used for simpler tasks, such as automatic cruise control. To enable fully autonomous vehicles at a reasonable cost, the radar resolution must be improved significantly. Better resolution would make it possible to compete with laser based systems regarding performance, but at a much lower cost and with better reliability.